Isolite Systems President and CEO, Sandra Hirsch, named Entrepreneur of the Year by the South Coast Business & Technology Awards
Date: Thursday, June 9, 2016
Location: Fess Parker's DoubleTree Resort, Plaza del Sol
It is with great excitement and joy that we announce that Isolite Systems President and CEO Sandra Hirsch has received the South Coast Business & Technology Award for Entrepreneur of the Year.
The Entrepreneur of the Year award is given to an individual who has made a career of successful entrepreneurial endeavors by founding, building, and leading profitable and dynamic businesses. Entrepreneurs of the Year inspire others with their vision, leadership, and achievement, and demonstrate extraordinary success in business or technological innovation while exhibiting high ethical standards. Sandi is no exception.
Sandi was first exposed to the vast opportunities the business world has to offer while studying at USC, where she earned her Bachelor of Science degree in business administration with an emphasis in entrepreneurship. Sandi discovered a natural fit in the financial management of business, where resource allocation and cash flow were critical to success in every enterprise, from construction to livestock ranching to insurance. Slowing down only to raise her three children, her wide spectrum of experience, her commitment to customer service, and her financial acumen have led to the fulfillment of a lifelong dream of being an entrepreneur.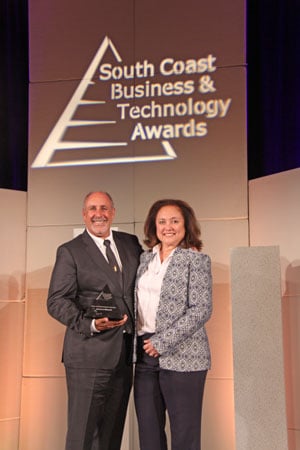 In 2001, Sandi founded Innerlite Inc. with her husband Jim Hirsch, an industrial designer, and her brother-in-law Tom Hirsch, a practicing dentist. Together, they rebranded the company as Isolite Systems and launched their flagship product the Isolite illuminated dental isolation system in 2002. Isolite enables dental practices of all sizes to implement a technique for controlling the oral environment, providing an innovative solution for dental isolation. Offering a full line of isolation products that are minimally invasive and easy-to-use, Isolite Systems allows dental professionals to work more productively and effectively with less stress and fatigue… for both themselves and their patients.
Today, Sandi serves as President and CEO of Isolite Systems. Under her leadership the company has grown from a single game-changing idea to an international phenomenon, with over fifty employees at their Santa Barbara-based manufacturing and distribution center and representatives worldwide. Thousands of dentists in over twenty countries are loyal fans of the safety, comfort, and control that Isolite dental isolation provides. In the U.S., over 20% of all dental schools have adopted their products, which will soon become the standard of care for everyday dental procedures.
Sandi and the Isolite team continue to develop products that make a difference in people's lives. They are relentlessly focused on the pursuit of a better dental experience for every patient and have earned numerous awards and accolades for their efforts. For these reasons and more, Sandra Hirsch is the 2016 South Coast Business & Technology Awards Entrepreneur of the Year.
In 1995, a group of local businesses and executives started a foundation to recognize individuals and companies who have demonstrated extraordinary commitment to ensuring the economic vitality of the South Coast of Santa Barbara County. This has come to be known as the South Coast Business & Technology Awards.
Since 2001, the proceeds from the Awards have benefited the Scholarship Foundation of Santa Barbara. The funds are granted to local students studying business and technology at Santa Barbara City College, UC Santa Barbara, and Westmont College. To date, $1.6M has been granted to 650 students.
Each year, more than 80 local companies participate in the celebration of the BEST in our local economy. This year marks the 22nd anniversary and a very special recognition of Entrepreneur of the Year, Sandra Hirsch!
Please join us in congratulating Sandi on this great accomplishment.