Isolite compatible mouthpieces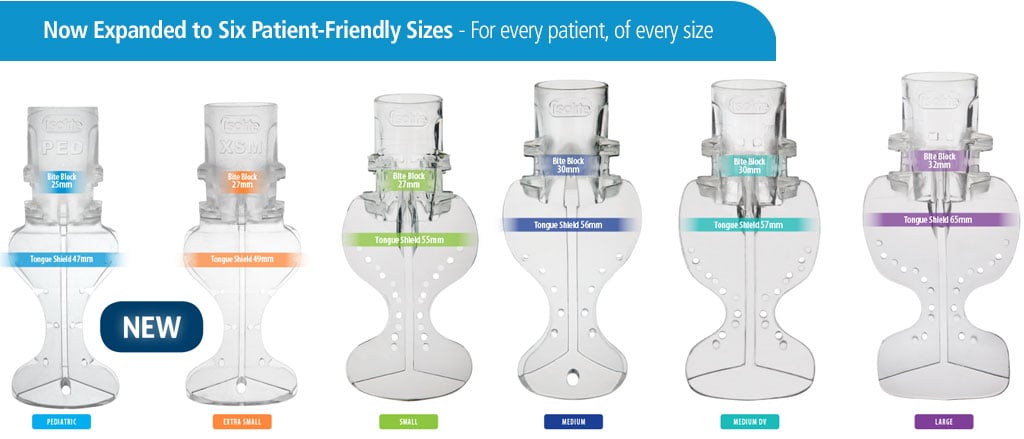 Compatible with the full line of Isolite's family of products, the Mouthpiece is the heart of our system.
Isolite's proprietary and patented Mouthpiece has been specifically designed and engineered around the anatomy and morphology of the mouth to accommodate every patient, from children to the elderly. It is constructed out of a polymeric material that is softer than gingival tissue for patient comfort, and it has excellent optical qualities. Its safety advantages and ease-of-use will boost your practice's efficiency, results, and patient satisfaction.
When the Isolation Mouthpiece is put in place, the patient's cheek and tongue are automatically retracted and protected, resulting in an immediate decrease in the risk of patient injury. The Mouthpiece obturates the entrance to the throat, minimizing the chance of debris aspiration. This makes the patient more comfortable and provides the additional benefit of being able to monitor the patient's airway. The Mouthpiece's construction provides an extra layer of protection from dental instruments and controls the patient's tongue. The patient can comfortably rest their jaw thanks to the built-in bite block, and you have free access to both the upper and lower quadrants. And because the Mouthpiece is single-use, patient cross-contamination is eliminated. In addition, the Mouthpiece has bilateral, 360° evacuation to keep the field dry and reduce humidity.
Single-Use Means Safe
Our mouthpieces are designed to be single use only to significantly reduce the risk of patient cross-contamination and provide effective compliance with infection control protocol.
The Safety Advantage
Tongue and cheek retraction and protection:
The Mouthpiece keeps the tongue out of the way, making it easier and safer for the dentist to work. It also retracts the cheeks and shields them from injury by the dentist's instruments. The patient's mouth is also retracted open by the integral bite block, allowing the dentist access to the oral field and the patient to relax their jaw.


Airway protection:
The Mouthpiece also acts as a barrier to the airway. By preventing accidental aspiration of foreign bodies, the Isolite Mouthpiece further protects the patient's safety.


Airway visibility:
The Mouthpiece is transparent, which allows you to clearly see the airway. This allows you to continuously monitor patients more effectively, ensuring continued safety during procedures.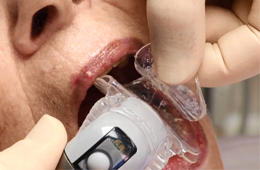 Mouthpiece placement is easy as 1-2-3, but as with any technique, practice makes perfect. Every professional develops his or her own preferred techniques, but we recommend employing these three steps for sizing and placement.